Between Memory and Independence
In the process of making the Jewish calendar relevant to our modern life in State of Israel, the IMPJ has puts a special emphasis on the seven days between Yom HaShoa (Holocaust Remembrance Day) and Yom HaAtzmaut (Independence Day), which we refer to as the "Week of Tekumah (Revival)." Many of our congregation mark the Shabbat during this week as "Shabbat Tekumah", in which we dedicate the service to the connection between grief and revival; commemorating those who perished in the Holocaust and the Israeli soldiers who fell during war, and emphasizing the connection between those who lost their lives to the miraculous founding of the State of Israel.
During the "Week of Tekumah", Am Yisrael, collectively, must introspect on its ability to fulfill its destiny, which is manifested in the space between a legacy of destruction and grief and a legacy of revival and renewal.
​
We invite you to use the following materials to mark the Three Yoms - Yom Hashoa (Holocaust Memorial Day), Yom Hazikaron (the Memorial Day for Fallen Soldiers), and Yom Ha'Atzmaut (Israeli Independence Day) - and the unique connection between them.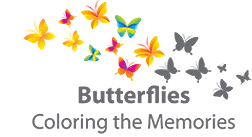 Butterflies - Coloring the Memories
A few years ago, Ms. Sue Klau of Puerto Rico, a leading activist in the local Jewish community, initiated a project to commemorate one and a half million Jewish children who were murdered during the Holocaust. Inspired by the poem "The Butterfly", written by Pavel Friedmann while he was incarcerated in Terezin Ghetto, Ms. Klau decided to adopt the butterfly as a symbol of these children.
The goal of the project is to encourage children around the world to send one and a half million colored butterflies so that every Jewish child murdered in the Holocaust will be remembered as a human being who had hopes and dreams of freedom.
​
Havdalah Between Yom ha'Zikaron and Yom ha'Atzmaut
In Israel, the Memorial Day for fallen soldiers (Yom ha'Zikaron), was set for the 4th of Iyar – one day before Israel's Independence Day (Yom ha'Atzmaut). One of the determining considerations for setting the two days one after the other was that it was believed to be appropriate to combine the joy and pride of victory and independence with the memory of the painful cost of such independence.
In recent years, attempts have been made by various Jewish organizations in Israel to ponder over this sharp, complex and challenging switch from sorrow to happiness, memorial and independence, with the use of the term Havdalah, borrowed from the Jewish ritual separating Shabbat from the rest of the week.
We invite you to use this Havdalah collection at your congregations around the world, in order to form a space for prayer and discussion about Israel's Independence Day.
See Full Havdalah Collection